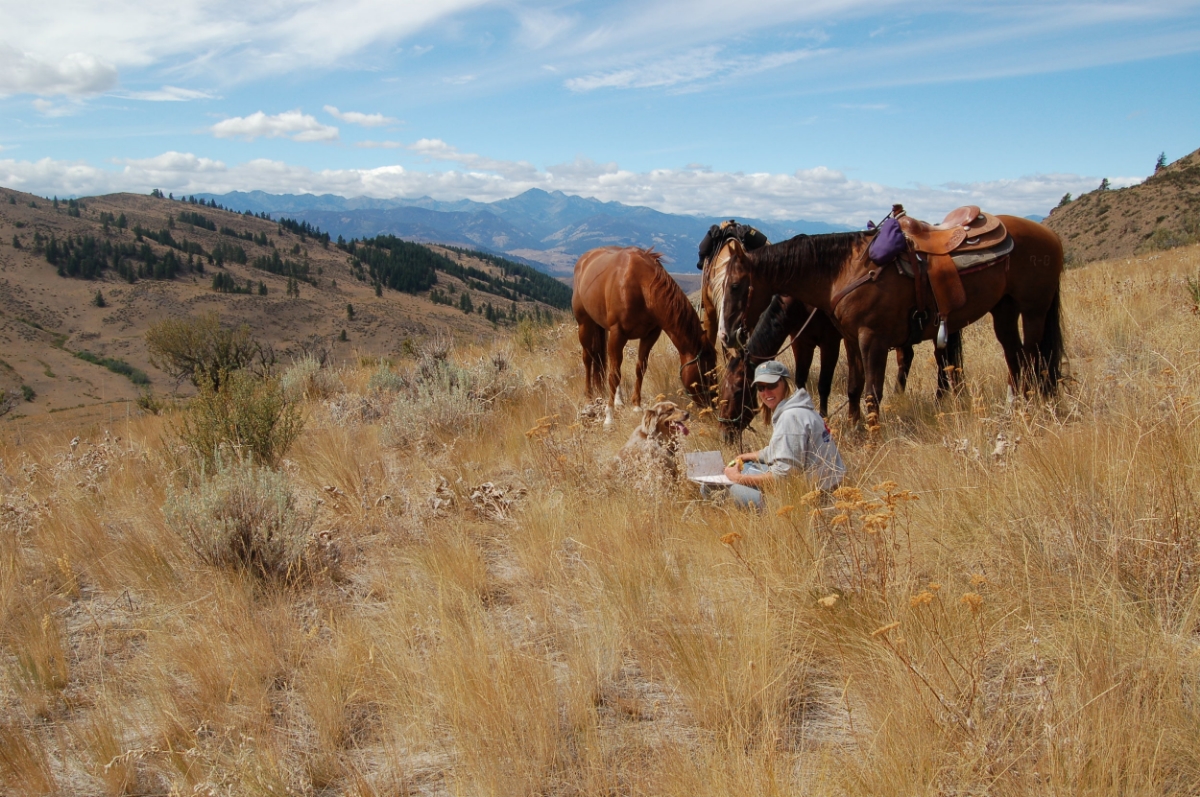 Alayne Blickle, a lifelong equestrian and reining competitor, is the creator and director of Horses for Clean Water, an award-winning, internationally acclaimed environmental education program for horse owners. Well-known for her enthusiastic, down-to-earth approaches, Alayne is an educator, writer, and photojournalist who has worked with horse and livestock owners since 1990. She is also a regular contributing writer for The Horse magazine and TheHorse.com.
A lifelong learner, Alayne has an undergraduate degree in psychology and natural sciences (BA, Southern Illinois University) and has expanded and refined her education with a MA in communications (Southern Illinois University), post-graduate work in educational media (University of Washington) along with fine arts photography (University of Alaska). She keeps her training current in the areas of sustainable agronomy, natural resource management, rangeland ecology, and equine science. She holds the titles of: University of Idaho Master Gardner, King County Master Recycler/Composter, and Washington State University Livestock Adviser.
Alayne and her husband Matt raise and train reining horses at their eco-sensitive horse motel and guest ranch, Sweet Pepper Ranch, in sunny Nampa, Idaho. Alayne can be reached via the contact page or at: 206-909-0225.
Matt Livengood
Matt Livengood has owned and managed small acreage horse properties for over 30 years. Along with his wife, Alayne Blickle, they run a horse motel/ B&B at their place in Nampa, Idaho.
Matt was on the King Conservation District Board of Supervisors for many years and was the Board Chairman for 3 years. He has an undergraduate degree in education and a masters degree in instructional design and educational media. He worked for 25 years for The Boeing Company developing educational materials and managing training programs.
Matt is also a carded judge for the National Reining Horse Association since 1999, and he manages cowhorse and reining shows. He has been a board member and held various officer positions for several reining horse association affiliate organizations since the mid-1990's. Matt raises, trains and shows reining horses; he enjoys teaching lessons and conducting clinics for riders of all ability levels.
Matt can be reached via the contact page or at: 206-909-0511.
Jess Friedman
Jess Friedman is the editor of Horses for Clean Water's website and e-newsletter: The Green Horse. A lifelong equestrian, she enjoys exploring the many riding trails southern Idaho has to offer. She has previously taught youth riding lessons, worked as a groom and stable hand, and spent a summer as a counselor at a horse camp in upstate New York.
Jess has a bachelor's degree in Recreation Management and Youth Leadership (Brigham Young University) and a master's in Organic Farming (Newcastle University). She is passionate about regenerative agriculture and feels that her studies also help her be a responsible horsewoman.
Jess has fifteen years' experience in video production, photography, graphic design, and web development, and she is eager to use those skills to promote the mission and outreach goals of Horses for Clean Water.
Jess can be reached via the contact page.
APRIL LALANDE
April LaLande has been a consultant with Horses for Clean Water on special projects since 2006, and previously attended numerous Horses for Clean Water events.
On her former Alpenglow Farm, April hosted farm tours on topics such as: horse keeping, wildlife enhancement, pasture management and forest management. Alpenglow Farm was chosen as: Landowner Farm of the Year by King Conservation District, in King County, WA in 2007. A life long animal lover, horse rider and caretaker, April enjoys working with the unique horse and livestock owners she meets through Horses for Clean Water.
In 2011, April moved to a property in a 'better' climate (24" of rain annually, versus 105") where she and her husband Mike stay busy maintaining their forest and tending to their goats and gardens. Currently horseless, her free time is spent out-and-about with the whippets.
April can be reached via the contact page.
Jessica Paige
Jessica Paige has been a consultant with Horses for Clean Water for almost 20 years, helping with a variety of projects from writing grants, manuals and tip sheets, to organizing workshops and helping coordinate new programs like 4-H'ers for Clean Water.
While Jessica grew up with horses, her two dogs are now the four-legged creatures in her life. Some of her other passions include writing, gardening, creating herbal remedies and hiking.
Jessica can be reached via the contact page.