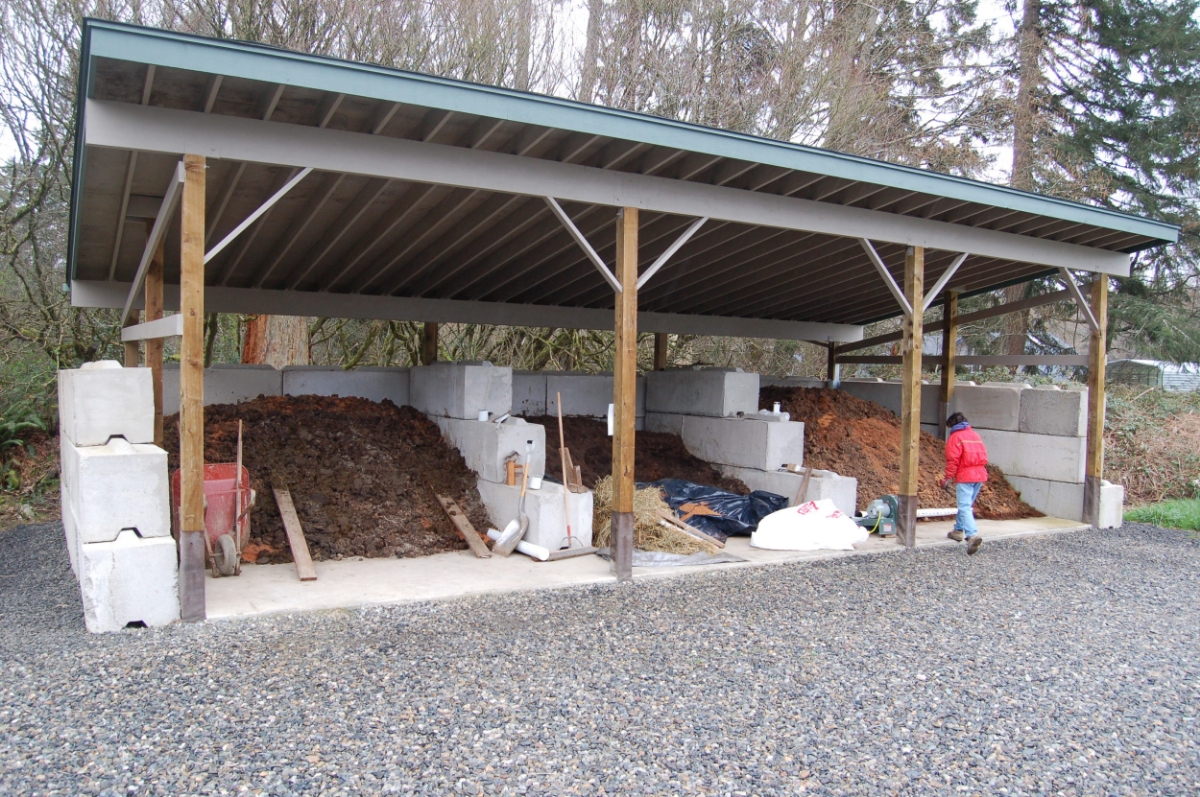 Why Compost?
Although all organic matter, including manure and bedding, eventually decomposes, composting speeds up this process by providing an ideal environment for bacterial and other microorganisms to quickly turn waste into crumbly, earthy-smelling, dark material that is an excellent soil amendment for your garden, landscape and pastures. As manure is broken down, heat is given off, destroying weed seeds, fly larvae and pathogens (organism that can produce an infection or disease). Learn how to turn an unsightly, unhealthy manure pile into "black gold."
Compost bins can be simple three-sided structures covered with a tarp (which will help keep nutrients from leaching out and keep heat and moisture in the pile) and are ideally located close to barns or paddocks for chore efficiency.
Concrete ecology blocks make durable, long lasting compost bins and can withstand emptying with heavy equipment.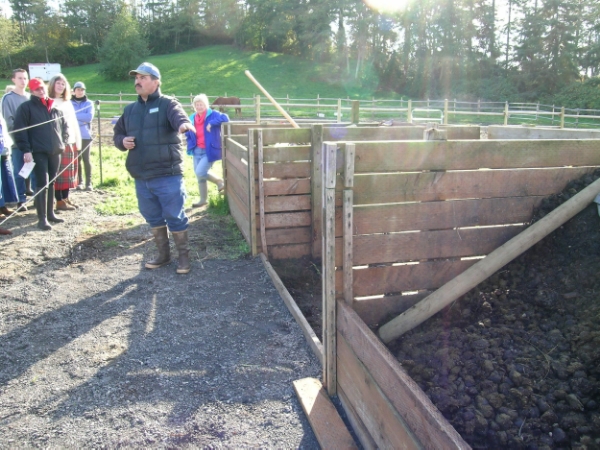 Systems that have removable slats, for easy turning and transferring of compost, are a chore-efficient design.
Covering a compost system is a key component in turning manure into compost. A simple roof is a great alternative to tarping the bins. By composting manure, you can generally decrease the total volume of your manure by two-thirds.
This system has sturdy concrete sides and back, removable slats for ease of emptying, and a permanent roof placed at a height that enables equipment to pass under when emptying.
Generally there are at least two bins in a system - one in use and one that is full and is finishing composting. But many people like to have at least three bins for some extra storage space, so they can empty the finished compost at an optimal or convenient time.
Compost systems can also include ways to get air into the pile to speed up the composting process, like this three-bin system that uses air blown into the piles at key times.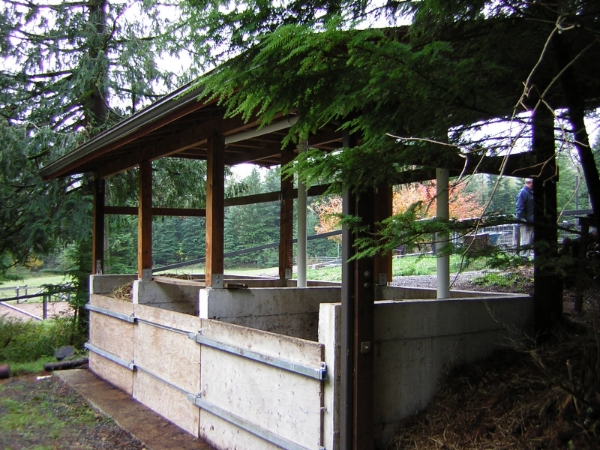 This concrete three-bin system has a permanent roof and removable panels for emptying.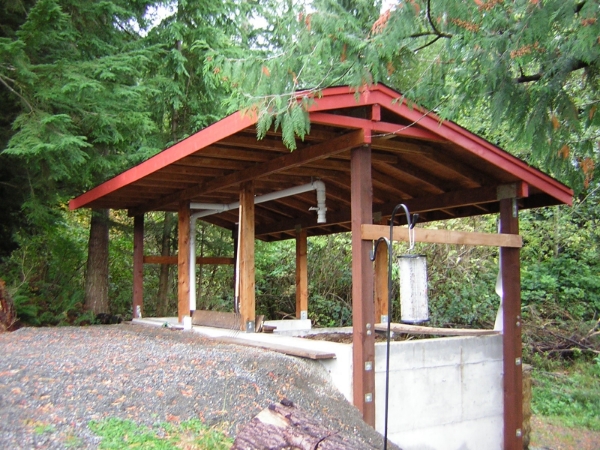 If you have the topography to allow the building of your bins into a slope, dumping wheelbarrows of manure down, instead of piling manure up, can save lots of chore time.
Simple drain pipes, with a baffled pipe to each bin allow electrically forced air to be blown into the piles and can speed up the composting process substantially.
Compost spreaders come in sizes applicaple for any size operation.
Compost spreaders can have different methods of driving the manure out of the spreader - some operate on their own and can be pulled by a truck, and some can be hooked to a tractor and driven by the tractor's PTO.
If you plan, or need to spread compost only once or twice a year, renting or sharing a compost spreader makes sense. The one shown here can be rented for free from the King Conservation District if you live in King County Washington.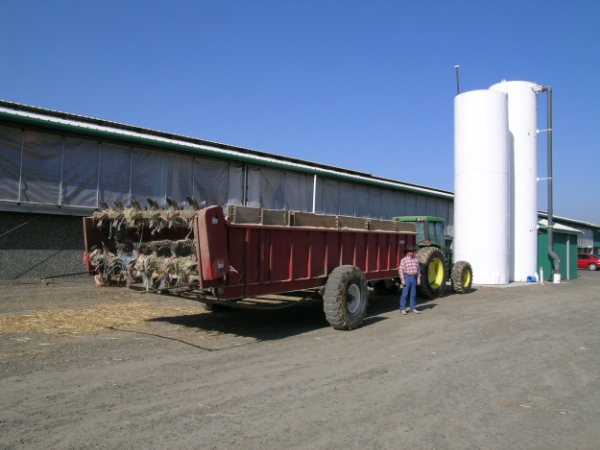 Large, commercial spreaders are well worth the investment for large operations with many head of livestock.
Compost systems can be designed and tailored to your specific operation by companies that specialize in building and installing compost systems. Sometimes getting professional help can make a big difference in quality of compost, especially if you are planning to sell your compost or use it for commercial food crops.
Join us on a tour of Trinity Ranch, a 20-acre horse and alpaca property that effectively manages its mud and manure and provides healthy wildlife habitat. Get ideas for mud management, using native plants, and composting and learn how they care for their animal residents while reducing environmental impacts.